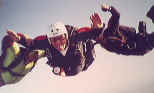 ACCELERATED FREEFALL TRAINING
The Accelerated Freefall Course (AFF) is one of the most exciting things to come to the sport of Skydiving in its history. This training was actually developed 2 years prior to the approval of the Tandem Training. AFF was the first course to allow for Dual instruction in the sport of Skydiving.
Although we do recommend the Tandem Jump prior to the Accelerated Freefall Course (AFF), it is possible to start with AFF. Our recommendation of Tandem first is based on the fact that AFF is so intense most students that have not made a Tandem Jump first, say, "I wished I had made the Tandem Jump for the experience".
WHAT IS ACCELERATED FREEFALL?
Accelerated Freefall is a structured course designed as individualized One on One Training. This is a change from the old group style training that was designed to provide quantity instead of quality training.
In the AFF Course, very experienced and well trained Instructors provide the necessary training to teach an individual to become a safe and competent Skydiver in a short period of time. Rather than tell the individual what to do and let the student do it as they watch, In the AFF Course, the Instructors perform the maneuvers along with the student. It is considered ON THE JOB TRAINING!
HOW DO I START?
You will meet with an Instructor on a Saturday Morning at 9:00 or 10:00 am. You will go through the training with an Instructor. (Approximately 5-6 hours with our chief AFF Instructor CINDY) During the training you will receive lectures and demonstration and you will practice these procedures until proficient.
These procedures will include:
Equipment orientation
Aircraft Procedures
Exiting the Aircraft
Freefall Maneuvers
Pulling your Ripcord
Maneuvering the Parachute
Landings
Emergency Procedures
You will be ready to jump when you and the Instructor feel you can make a safe Skydive.
THE FIRST AFF JUMP!
On the first AFF Jump, you will go to 11,000 feet with two Instructors. Unlike the Tandem, you will wear your own parachute and will not be attached to anyone. However, the two instructors will jump with you and hold on to you in freefall. With these experienced jumpers watching, you will go through a series of maneuvers demonstrating your awareness and ability to handle the exciting world of freefall. After a minute of freefall, you will pull your own ripcord and come down under the parachute by yourself. The whole jump will last approximately five minutes. There is no doubt that this will be the most adrenaline packed and exciting five minutes of your life.
What Comes Next?
After the first AFF Jump, you will be given a logbook and a briefing. This briefing will include what will happen on your next jump.
The Accelerated Freefall Course consists of seven levels. Each level will require a minimum of one jump. The first three levels will be with two Instructors and the last four levels will be with one Instructor. The first jump will require a formal class of five to six hours of training. Each jump after the first will only require 30-60 minutes of preparation time.
During levels two through seven, you will learn all of the aspects of the sport of skydiving necessary to become a safe and competent novice. However your training doesn't stop there. You will be supervised by more experienced jumpers throughout your time in the sport to assist you in continuing to advance and learn.

ACCELERATED FREEFALL JUMP PRICES
DESCRIPTION PRICE
AFF Class Room Training

$100.00 ea.

AFF Level 1 jump

$209.00 ea.

AFF Level

2

jump

$209.00 ea.

AFF Level

3

jump

$209.00 ea.

AFF Level 4, 5, 6 or 7 Jump

$179.00 ea.

AFF Level 8

-1

Jump

$48.00 ea.

AFF Level 8

-2 thru 8-6

Jump

s

$99.00 ea.

Gear Rental (after level 8)
$30.00 ea.
Video or 35 mm stills

$85.00 ea.

Video and 35 mm stills

$110.00 ea.